SCIENCE OF REVERSE AGING
About Amé
Amé Organic is designed to address a range of skin problems by restoring harmony and optimal functioning to the skin. Many skin issues can be traced back to a malfunctioning of the skin's glands, which can lead to an imbalance in skins oil production and a weak skin barrier.
Amé works to address these underlying issues by stimulating the production of specific neuropeptides, which are chemicals that play a role in the skin's emotional responses, and by calming and relaxing inflamed skin glands. In addition, the product provides extra nutrition and support to help with healing and cell regeneration, resulting in a glowing, healthy complexion.
Amé is formulated with carefully chosen ingredients that work on multiple layers of skin functioning to bring your skin to a blissful state of health and happiness.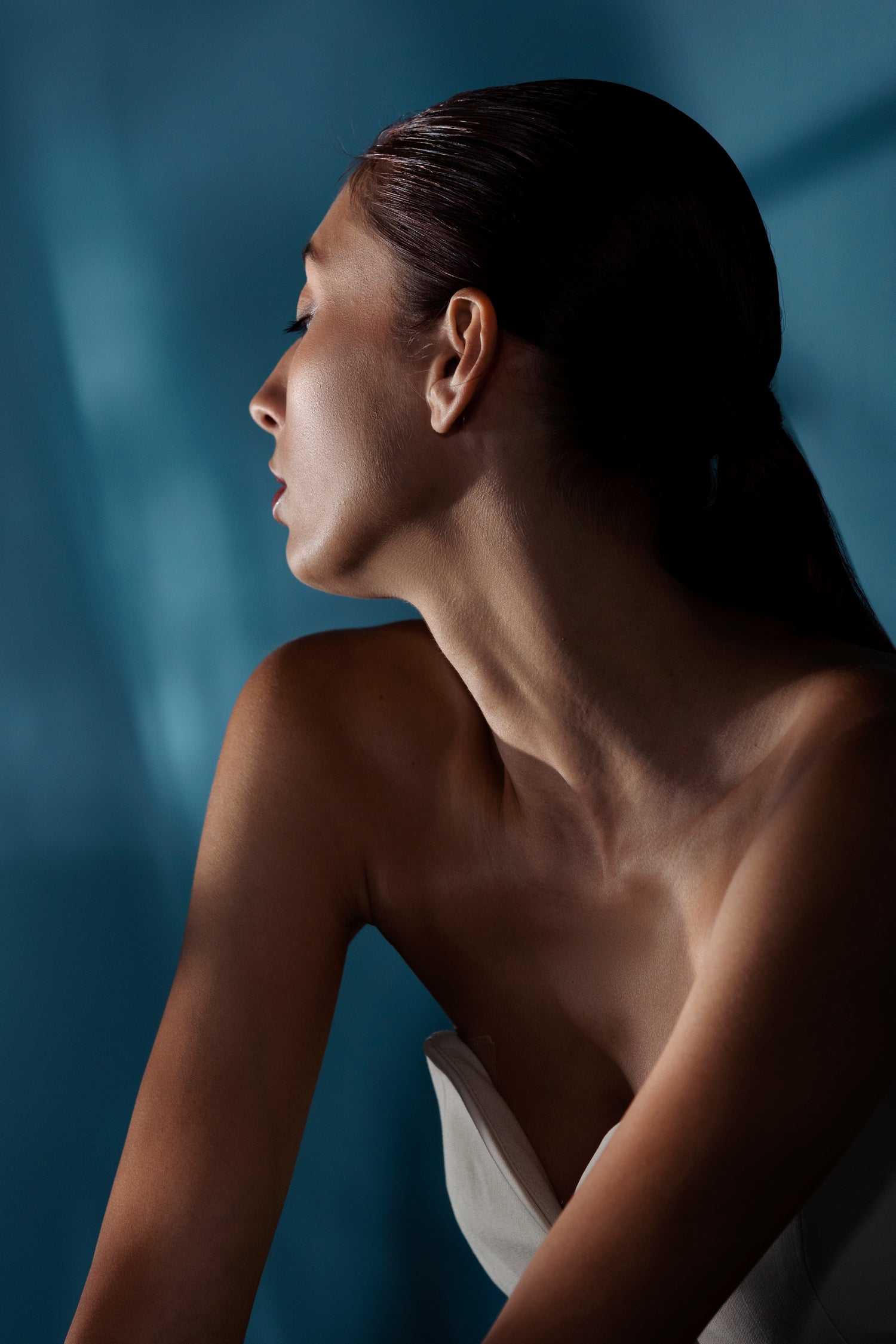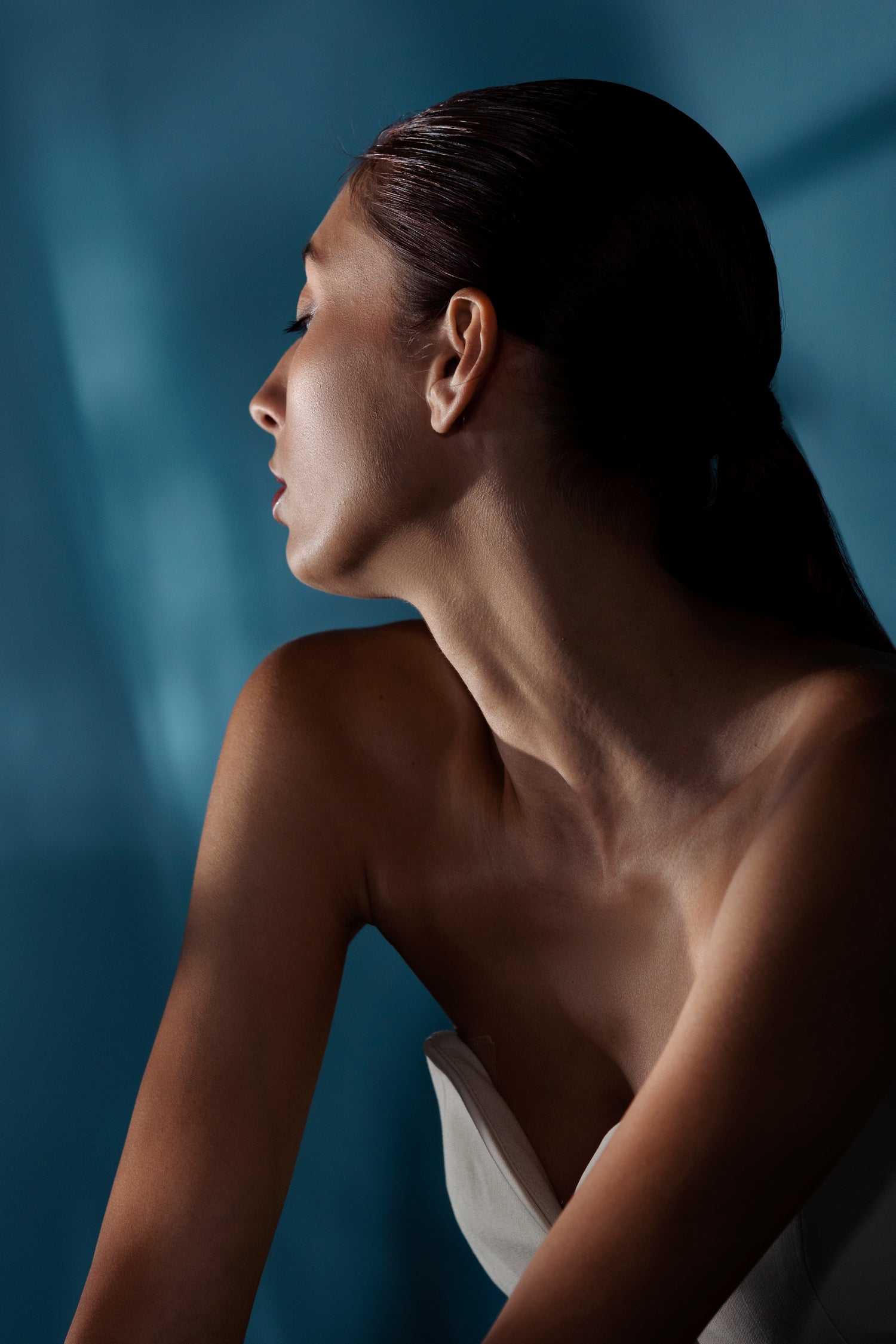 Ame Organic Launches Best Alternative for Anti Aging Creams
Ame organic-A Skin and Wellness brand developed on elixir of life, which calms your mind, sooth your emotions, and most importantly reset your skin's age. If you are searching google for the best natural anti-ageing creams, this is a perfect product for you.
View Article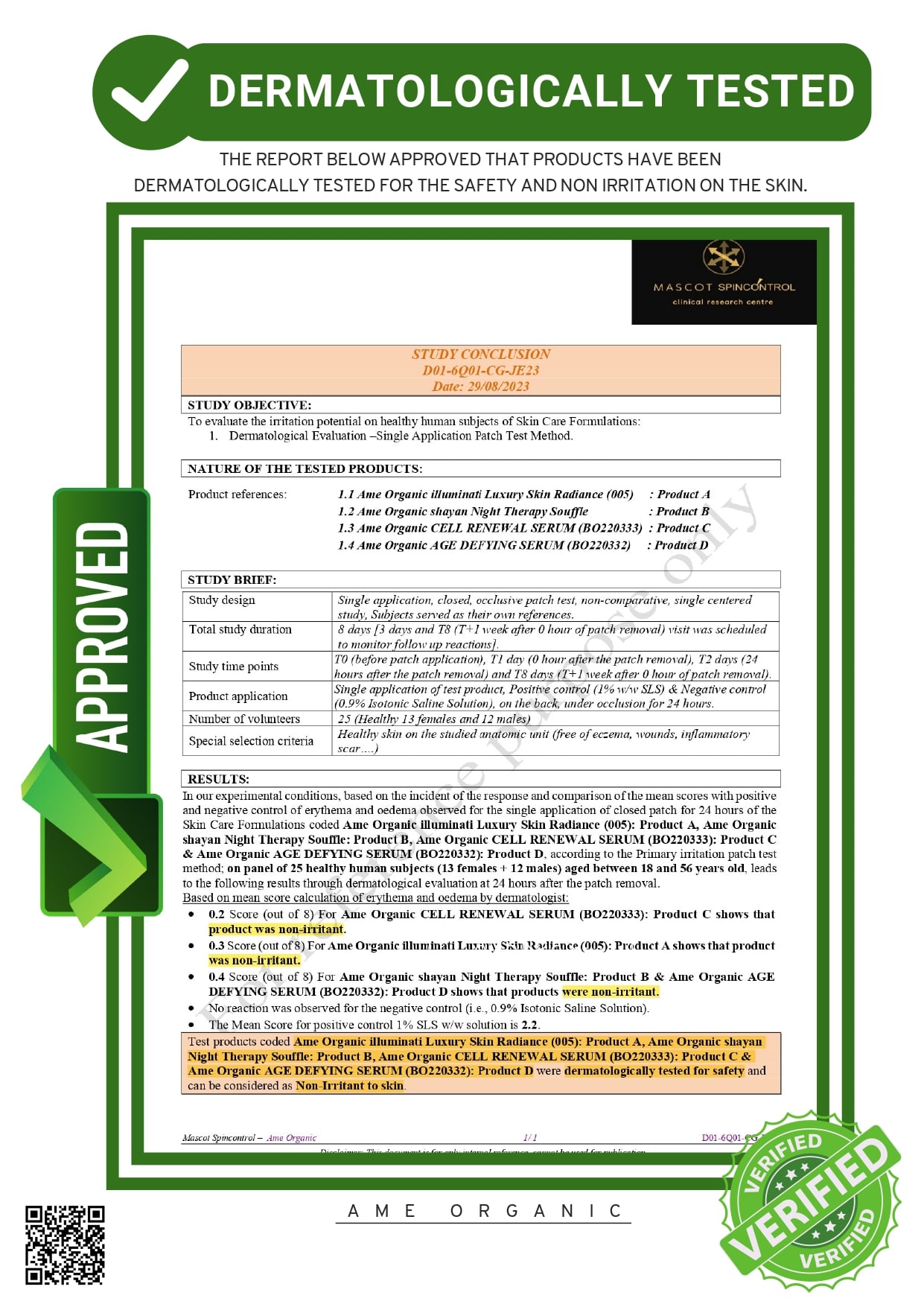 HAPPY TO ANNOUNCE
DERMATOLOGICALLY TESTED
We are thrilled to share the exciting news that our latest skincare products have undergone rigorous dermatological testing and have been unequivocally proven to deliver outstanding results for your skin. Our formulations have been carefully crafted to not only enhance your facial complexion but also to alleviate stress, ensuring a holistic approach to your skincare routine. With the confidence of dermatological validation, you can trust that our products are your key to achieving both a radiant complexion and a soothing, stress-reducing experience. Welcome to a brighter, calmer, and more beautiful you.
Grab Now
What our Customers Think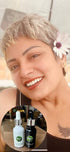 I have been using Ame organic skin serum for around one month. As soon as I applied the it on my face, I felt so calm and relaxed, I think it works on mind also. It is not oily at all and made my skin so smooth, clear, flawless and reduce my wrinkles.. Love the product

Meenakshi Verma, Founder of Spark Beauty World
Taking care of your skin is much more important than covering it up. Thanks Ame for the ethical & transparent approach towards skin care. Have tried both the day & night routine of Ame & highly overwhelmed with the results.My skin feels rejuvenated & pampered.

Husna Sait Entrepreneur, Influencer, Bridal Couturier
Actually I need not speak anything, my skin shows....I had a lot blemishes and skin was dull and when I approached nandita mam and then she suggested me to apply day and night serum...After a week of regular use I saw skin rejuvenation and to my surprise a small wart on my neck also got removed...Thank You Ame!!

SreeLakshmi K Somanchi, Associate Professor
Firstly both products have this amazing essence which is soothing!! This has been the first time I tried a serum on my face as mine is kind of sensitive skin so I am scared to expose it to various products. But both oils didn't give me any kind of irritability or other reactions to my skin which was really impressive. It has made my skin smooth a bit & kind of glowy. But in my case is that I have oily skin so I tried applying sunscreen on top of it which didn't result in too much oily look and I was happy with it. 

Chiravi K (P.hD. Student)
It takes a lot to shine without makeup, it takes courage, strength, self esteem and good serum.. I am glad that I found Ame serums (day and night both) it is easy to use, makes the skin smooth and shiny.. And the fragrance is so soothing just love it... Makes you look fabulous without makeup.. 🥰🥰

Seema Pandeya, Baker, Cake Designer, Entrepreneur
I am AB and I am a person who never tries to experiment with any and every products on my skin. I feel natural ingredients are sufficient for skin care. Then I came across AME, the day and night serum which actually has made a huge difference in my pigmentation and lightening of my scars. Thank you Nandita Sharma, for introducing me to such an amazing product.

Ashwini Bogadi, Sales Director WorldEmp
At the BPF we got a goody-kit which also had sample bottles of Ame Skin renewal serum and anti-aging serum. I used and found them to be extremely good. I found out the website and ordered big bottles. I strongly recommend these.

Pratibha Nand Kumar, Author & Journalist
Before & After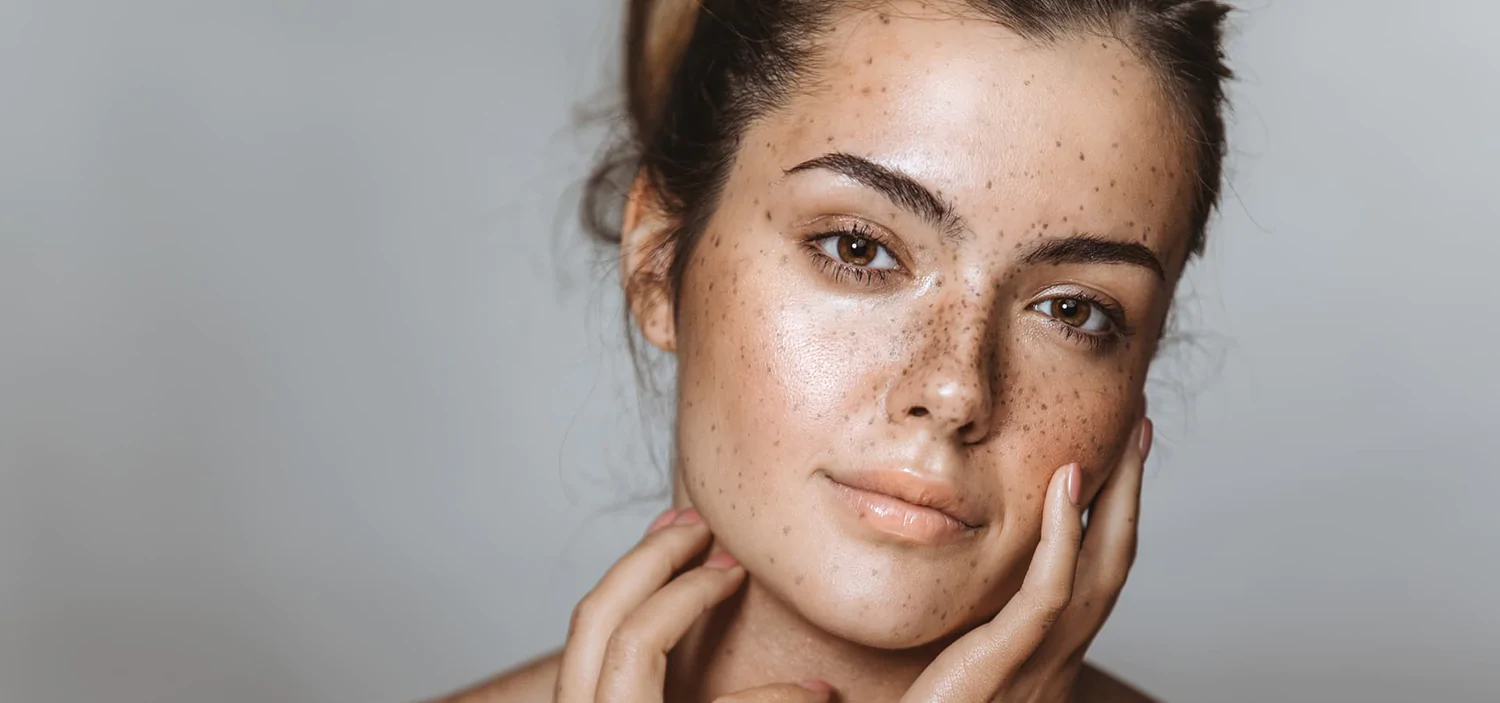 Extra Virgin Coconut Oil | Cold-Pressed
Regular price

Rs. 230.00

Sale price

Rs. 459.00
A nourishing skincare product made from pure, unrefined extra virgin coconut oil. Our virgin coconut oil is cold pressed to preserve the natural goodness and nutrients of the coconut, making it the perfect choice for those looking for a natural and healthy way to care for their skin. Whether you're looking to moisturize, soothe, or simply give your skin a boost of hydration, our Cold Pressed Virgin Coconut Oil is the perfect choice.
KEY INGREDIENTS

Cold Pressed Extra Virgin Coconut Oil
USE FOR

Provide your brain the energy to transform and stay stronger. Enrich your skin with the tenderness of coconut to get a soft, supple and hydrated skin. Boost your brain health by adding a spoonful of oil into your diet and strengthen the hair follicles by massaging a generous amount of oil onto the scalp.
Share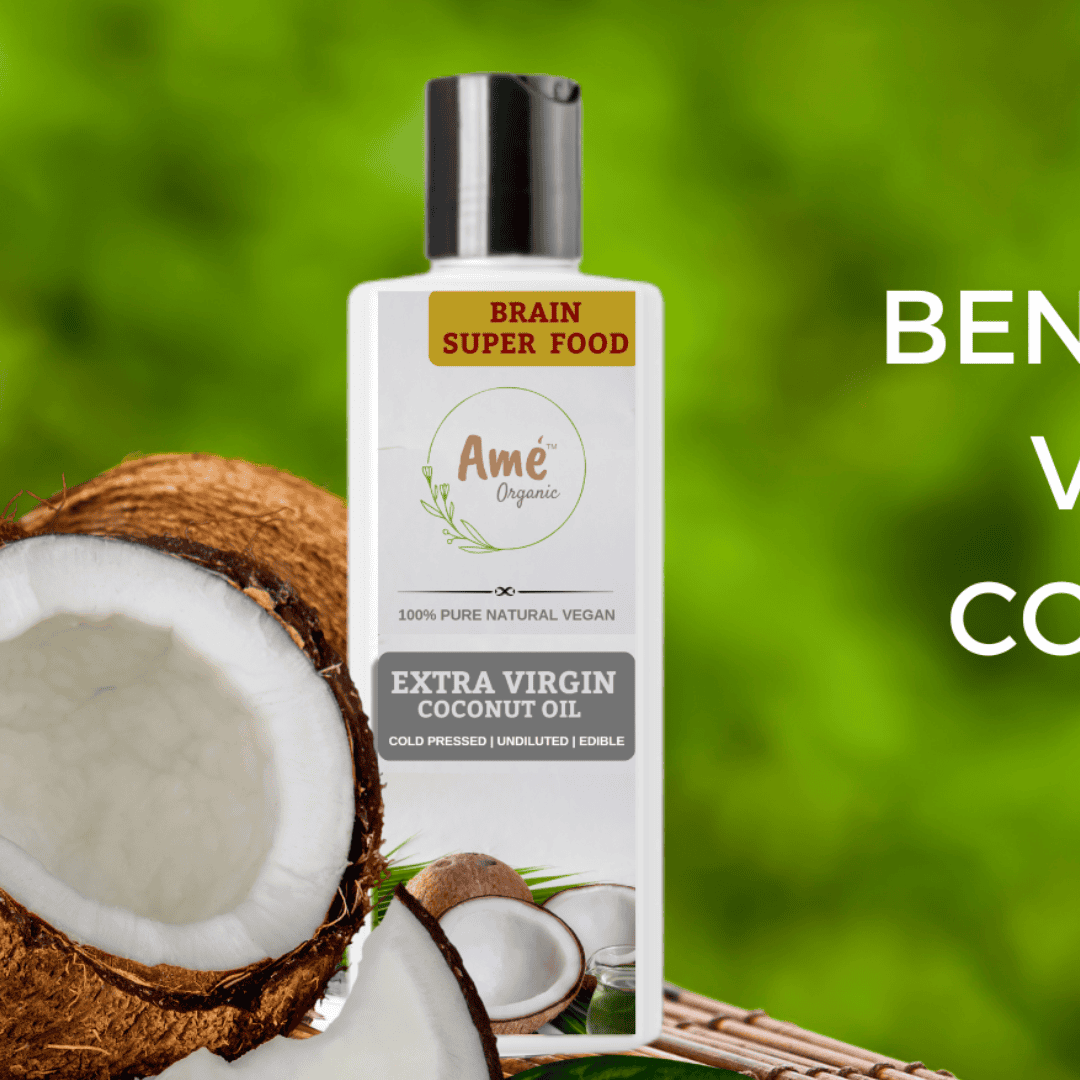 Quick view

Cold Pressed Blackseed Oil

Regular price

Sale price

Rs. 460.00
Quick view

Skin Oil

Regular price

Rs. 1,795.00

Regular price

Sale price

Rs. 1,795.00
Quick view

Cold Pressed Blackseed Oil

Regular price

Sale price

Rs. 460.00
Cold-Pressed Collection



You can find our Products in these Stores