Anti Aging Serum for Men and women 12ml
Regular price

Rs. 699.00

Sale price

Rs. 585.00
 Attention Dudes & Mates! It's time to up your skincare game with the amazing Ame Age Defying & Cell Renewal Serum.
Here's SIGN - Why you need Age defying serum

Pollution is everywhere, and it's not just bad for the environment. It can also clog your pores and make your skin look dull and lifeless. This serum is packed with antioxidants to fight back against pollution and keep your skin looking bright and healthy.


Oily skin? No problem! This lightweight, non-greasy formula won't leave you looking like you just slathered your face in grease. Instead, it absorbs quickly into your skin, leaving it feeling refreshed and revitalized.
Formula :

 Packed with anti aging ingredients such as Jojoba Oil, RoseHip Oil, Sweet Orange Oil and Neuropeptides.
 ✅
 

Safe & Effective Formulation:

 

Free From Mineral Oil, Dye, Parabens, And Sulfates, This Serum for Youthful Skin Has a Safe & Effective Formulation that Offers Visible Difference In 3-6 Weeks.

 
KEY INGREDIENTS

Rosehip oil (Rosa Canina), Avocado Oil (Persea gratissima), Jojoba Oil (Simmondsia chinensis), Rose Oil (Rosa damascena), Lavender Oil (Lavandula angustifolia), Orange Oil (Citrus Sinensis), Chamomile Oil (Matricaria chamomilla).
Rosehip oil (Rosa Canina), Avocado Oil (Persea gratissima), Jojoba Oil (Simmondsia chinensis), Rose Oil (Rosa damascena),Lavender Oil (Lavandula angustifolia), Sage Oil (Salvia officinalis L.),Geranium Oil (Pelargonium graveolens), Orange Oil (Citrus Sinensis),Frankincense Oil (Boswellia Carterii Oil)
Use For

Traveling made simple with the Age Defying and Cell Renewal serum travel combo pack. The serums, which are enriched with jojoba, rosehip, sage oil, and many other essential oils, work to restore the skin barrier while also rejuvenating and healing the skin from within. These serums' anti-inflammatory properties provide a calming and soothing effect on your skin. These serums penetrate deep into the skin's layers, removing premature signs of aging and improving hyperpigmentation and uneven skin tone.

Share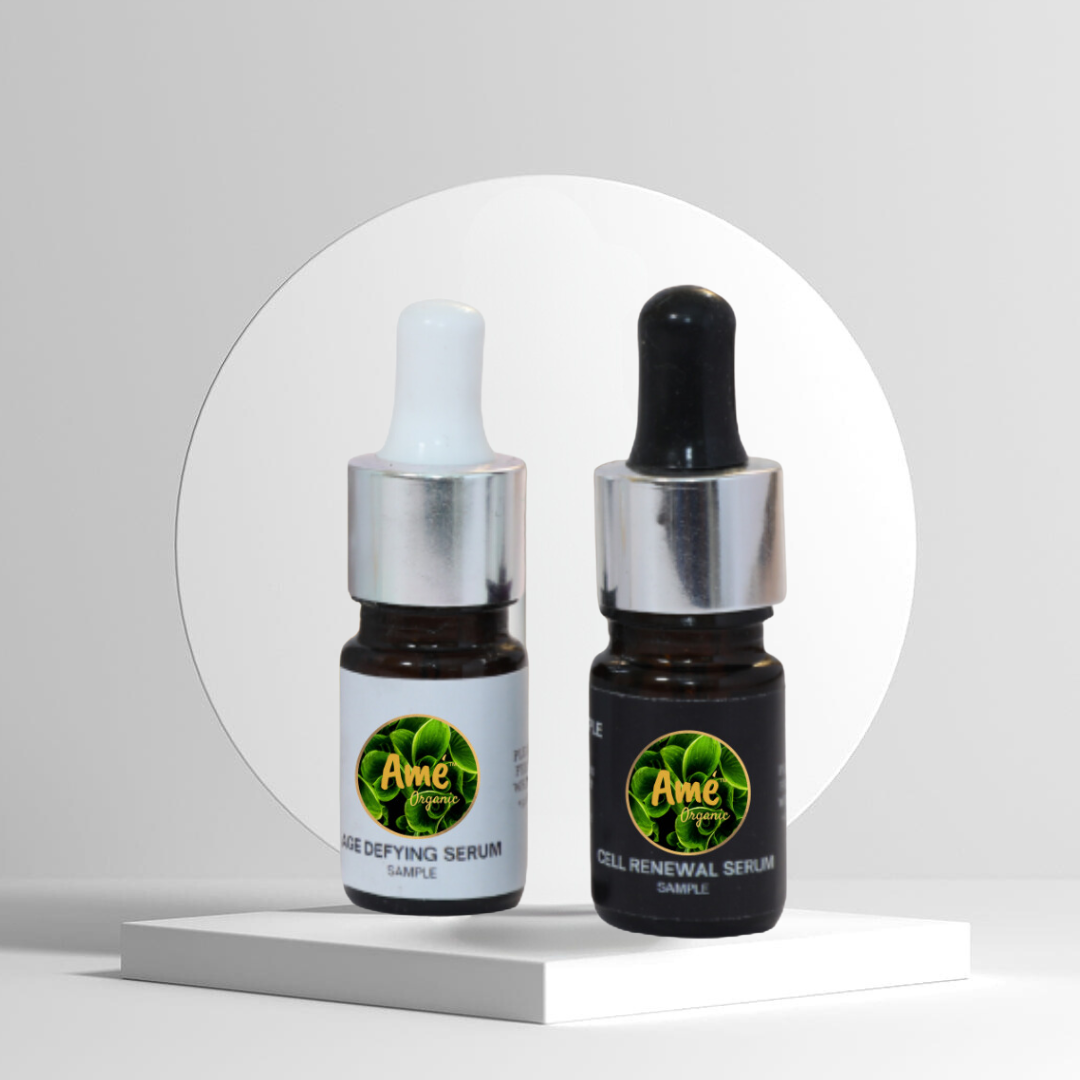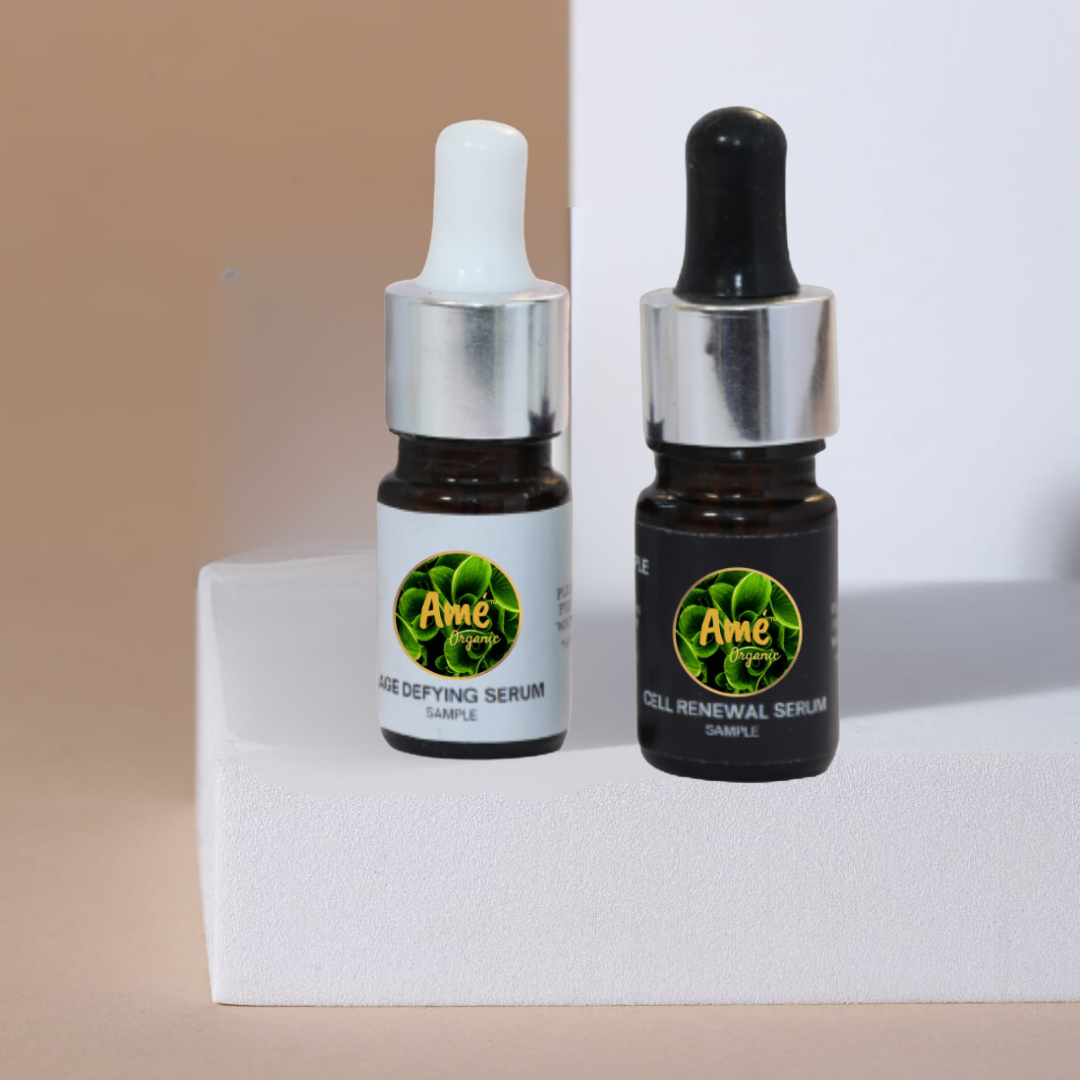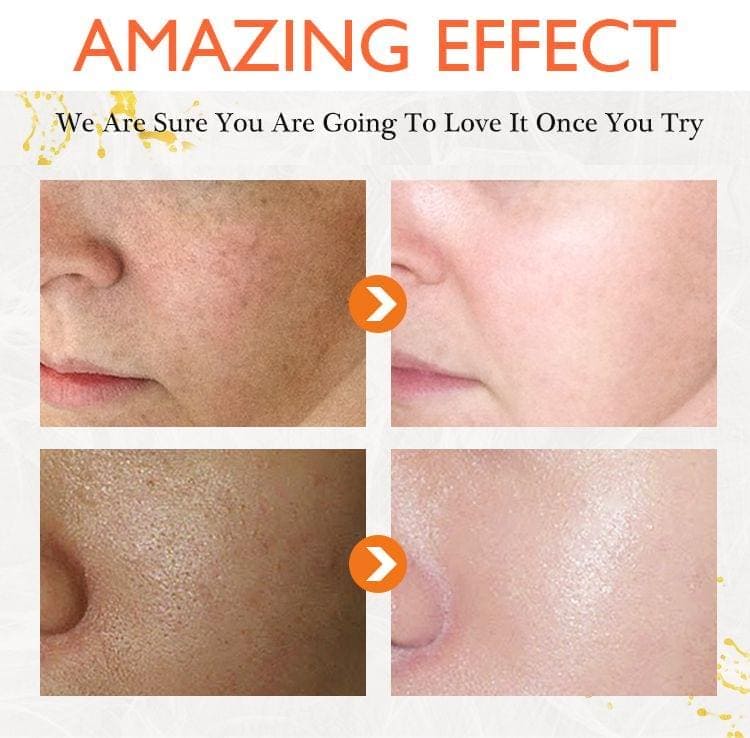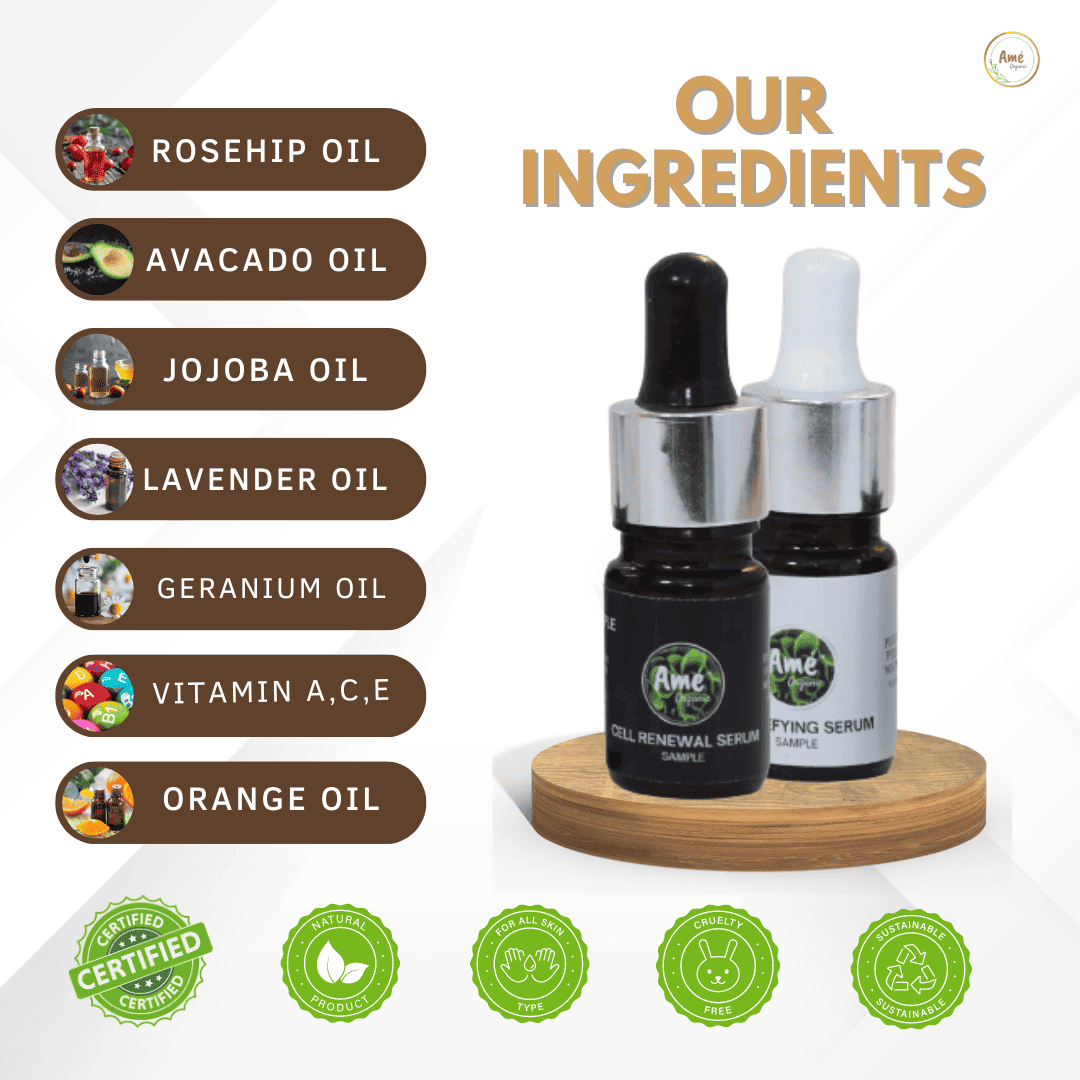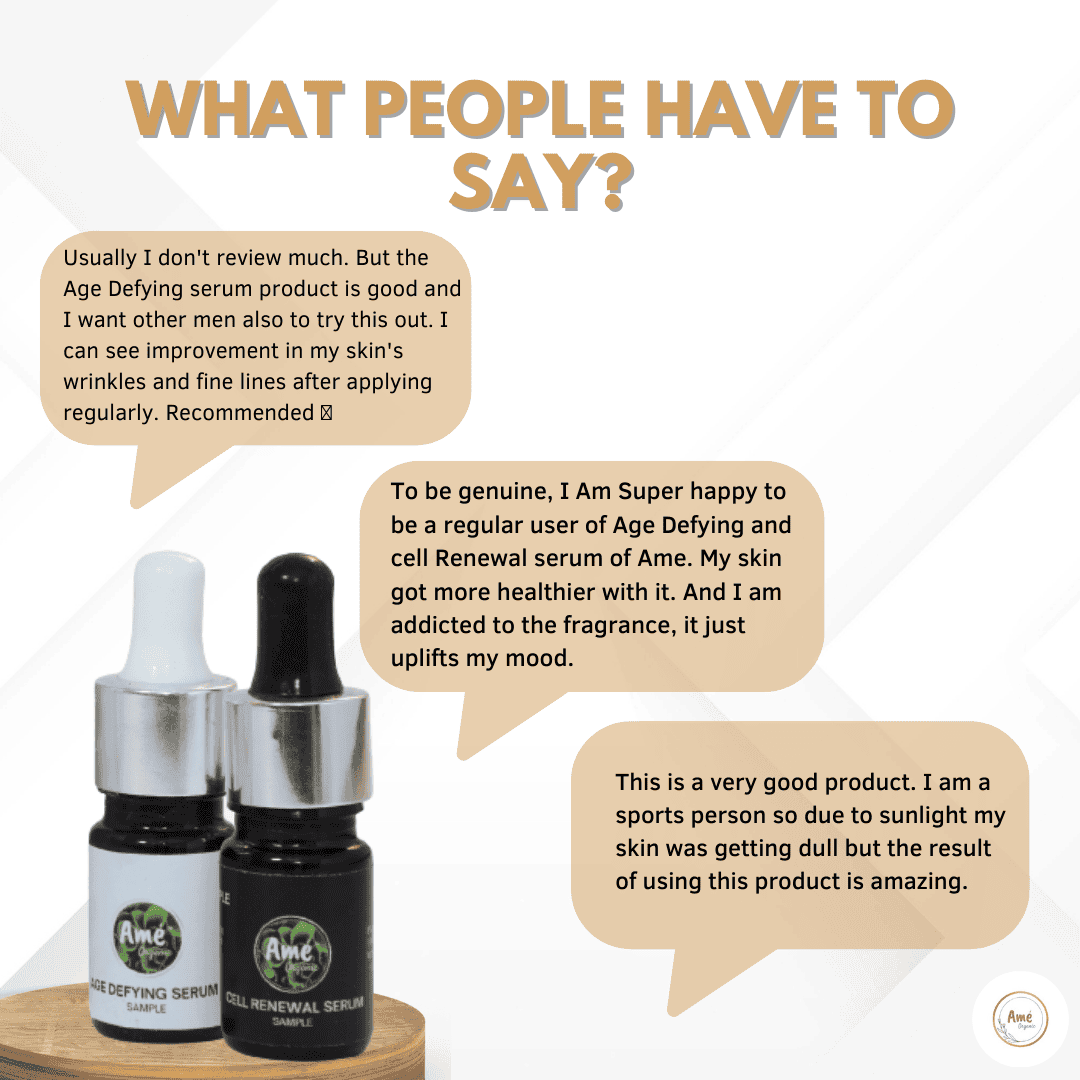 Guarantees
Vegan

Does not contain animal ingredients, Does not contain animal byproducts, Uses plant based alternatives

Dermo Tested

Our products are dermatologist tested

100% Natural

Clean and natural skincare with safe and transparent ingredients

GMP Certified

At Ame, we are committed to producing products that are effective, safe, and of the highest quality, and that have a good reputation
FAQ
What's your skin type ?

Normal, dry, oily, combination, and sensitive skin are the various skin types. Knowing your skin type enables you to choose the best products and treatments to maintain healthy, glowing skin. To find out what type of skin you have, follow these simple steps:

1. cleanse your face with a gentle cleanser

2. For 30 minutes, do not apply any product to your skin.

3. Your skin type is determined by the texture of your skin.

Tight skin around the lips when you smile is a sign of DRY SKIN.

A little shine on the nose and hairline indicates NORMAL SKIN.

A lot of shine on your nose, T-zone, and cheeks indicates that you have OILY SKIN.
How does the Age Defying Serum help fight signs of aging?

The Age Defying Serum from Amé Organic contains natural ingredients that promote collagen and elastin production, which helps to fight premature signs of aging such as fine lines and wrinkles. With regular use, this serum helps to improve skin texture and elasticity, leaving skin looking youthful and radiant.
Is the serum suitable for people below 30?

Amé Organic serums are suitable for individuals above the age of 20 who are looking to improve their skin's appearance and health. These serums contain natural, organic ingredients that work to nourish and rejuvenate the skin, helping to reduce the appearance of fine lines, wrinkles, and other signs of aging.
Testimonials

Taking care of your skin is so much important than covering it up. Thanks Ame for the ethical & transparent approach towards skin care. Have tried both the Day & Night routine of Ame & highly overwhelmed with the results. My skin feels rejuvenated & pampered.

Husna Sait, Lifestyle Influencer
I have been using Ame organic skin serum for around one month. As soon as I applied the it on my face, I felt so calm and relaxed, I think it works on mind also. It is not oily at all and made my skin so smooth, clear, flawless and reduce my wrinkles.. Love the product

Meenakshi Verma, Founder of Spark Beauty World
Firstly both products have this amazing essence which is soothing!! This has been the first time I tried a serum on my face as mine is kind of sensitive skin so I am scared to expose it to various products. But both oils didn't give me any kind of irritability or other reactions to my skin which was really impressive. It has made my skin smooth a bit & kind of glowy. But in my case is that I have oily skin so I tried applying sunscreen on top of it which didn't result in too much oily look and I was happy with it. 

Chiravi K (P.hD. Student)